MoTeC designs and manufactures a range of world leading products to suit a variety of needs, from compact satellite displays to fully featured replacement ECUs for a wide range of vehicles.
motec complete solution

MoTeC engine management and data acquisition systems are designed for performance, reliability and versatility. With advanced technology and a multitude of expansion options, our products can be configured to suit almost any application—on land, water and even in the air. Every level is catered for, from high performance road vehicles and amateur motorsport to top class professional race teams.
MoTeC's ever expanding product range is extensive and modular, allowing customers to tailor a solution to their individual needs. A core range of fully programmable ECUs, data loggers and displays can be integrated with peripheral devices and accessories to form a complete solution that powers, controls, logs, monitors and communicates virtually any automotive parameter.
---
Product Details
Engine Management Systems
MoTeC's fully programmable ECUs range from the earlier "gold box" Hundred Series ECUs to the latest generation M1 Series ECUs. These M1 Series ECUs are characterised by their ability to control complex modern engines.
---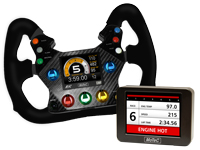 Displays
To monitor the performance of the vehicle, MoTeC has designed digital displays with highly customisable screen layouts. The D1 Series "Display only" variants include the D153, which is a small satellite 3.5 inch display that can be mounted in a steering wheel, and the 5 inch D175. These displays are adjusted using Display Creator, which is bundled with the product.
The C1 Series "Combined display/loggers" come in 3 sizes, 5, 7 and 12 inches. MoTeC has designed multiple highly customisable screen layouts for use with these products. If something different is required, there is the option to upgrade the display to accept Display Creator designed layouts.
---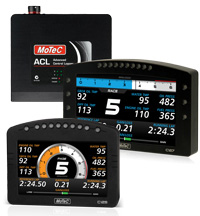 Display Loggers / Data Loggers
MoTeC produces a number of data loggers suit different requirements. The Colour Display Range, includes 5, 7 and 12 inch hardware options which combine display/logger/controller functionality. These are highly versatile and can be configured according to individual preferences, even having the option to create custom screen layouts using Display Creator. The range includes options well suited to those with moderate data requirements (C125, C127, C1212), while the more comprehensive units (C185, C187, C1812) incorporate features ideal for professional motorsport. The 5″ unit is also available as a non-display L1 Series Logger. It offers the same features, but is supplied without the display in an enclosed unit. MoTeC's Advanced Central Logger (ACL) is a dedicated logger with a huge 1GB memory and potential to connect up to 200 sensors.
---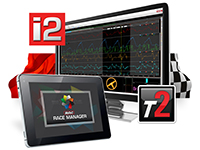 Data Analysis Tools
In addition to the data acquisition hardware, MoTeC's comprehensive i2 data analysis software provides all the necessary tools to analyse the data and contribute to more insight into the performance and reliability of the engine and chassis. The T2 Telemetry software allows engineers to monitor the vehicle while on track, and Race Management software gives category organisers unprecedented clarity into race events.
---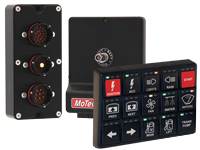 Power Distribution
MoTeC's Power Distribution Modules (PDMs) are designed to replace conventional relays, fuses and circuit breakers. They provide electronically switched power to the various electrical systems in the vehicle—for example motors, lights and solenoids—and electronic devices such as ECUs and data systems. Keypad A PDM combined with a Keypad provides the ultimate power management solution.
---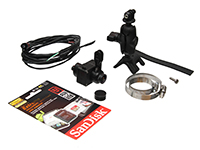 Video Recording
MoTeC is bringing true high definition to motorsport with its new V2 Video Capture system. The V2 Video provides superior quality video and numerous features designed specifically for the racing environment.
---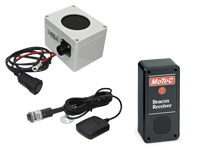 Lap Timing
MoTeC's Lap Timing system consists of one or more Beacon Transmitters (BTX) mounted beside the track and a Beacon Receiver (BR2) fitted in the vehicle or via the GPS unit by entering the coordinates of the start/finish line. The Beacon Receiver / GPS can be connected to a MoTeC display, data logger or ECU.
---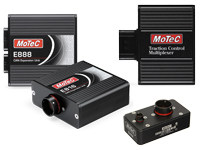 Expanders
MoTeC offers a number of different Expansion Modules to suit most applications. Some devices are simply for sensor input expansion, some for output expansion and some for both.
---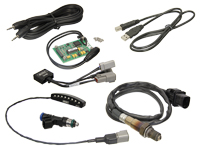 Accessories
As the demands on vehicle electronics increase, new Accessories are being introduced every season. MoTeC is at the leading edge of these technologies, developing many complementary devices in-house and outsourcing others from reputable suppliers.