AnalogX – 4 channel Analog to CAN bus interface
AnalogX is a compact 4 channel analog to CAN bus I/O expander, ruggedized and hardened for automotive and industrial applications.
Features
AnalogX provides 4 buffered and protected 0-5v sensor inputs, broadcasting sensor values between 1 and 255Hz. A 0.5A 5v reference is also provided for powering sensors.
Features at a high level:
Rugged and sealed Industry-standard M8 connectors for CAN/Power and sensors
Compact and environmentally protected design; IP65 rating
Compatible with our plug and play harness system (cables available separately)
60 x 60 x 24mm / 100gm
---

TireX advanced thermal sensor
The most advanced thermal imaging sensor for motorsports
TireX is a thermal imaging sensor that visualizes how your tires are working, in real time. Use it to tune your suspension for maximum grip and balance.

Next-generation technology
TireX uses the most advanced sensor technology in its class. Not only does it have superior accuracy and thermal compensation than current sensors, it's thermal array design allows applications beyond measuring tire temperatures. There's no sensor like TireX at any price!
Better grip, faster lap times, win races
TireX will show you how evenly your tires are working, helping you identify where to make changes to your suspension. Maximize your tire's grip to get faster lap times and win races.

Wide field of view works with your tight fenders and wide tires
110 degree field of view (FOV) simultaneously reads multiple zones across your tire.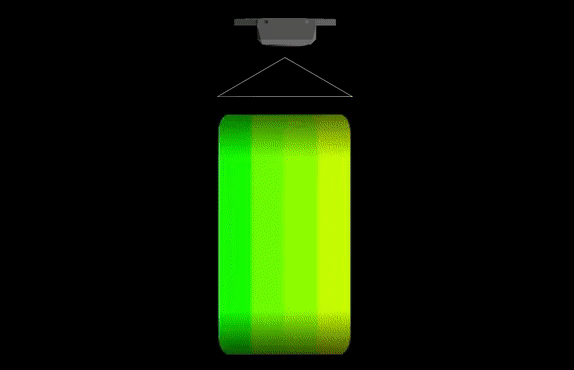 Up to 16 temperature zones supported
You can select 1, 2, 4, 8, or 16 temperature zones per tire, enabling fine resolution when you need it – up to 64 channels of data with 16 zones and 4 corners!
Assign each sensor to a vehicle corner
Each TireX sensor can be assigned to a corner of the vehicle, reporting each sensor's position with zones properly reporting inside edge to outside, regardless of left or right location on the vehicle.

Rugged and compact
TireX was carefully designed to keep a low profile mounting in mind, and specifically for mounting above the front tires to minimize steering-induced reading errors.

High quality connectors
TireX comes with a rugged and compact industrial M8 connector for integrating with your wiring harness. You only need 4 wires if you're doing your own wiring: 12v power, ground and two CAN bus connections. However, you can choose our ready-made four-corner plug and play harness, saving hours of wiring time.

Compatible with Podium real time telemetry
Easily analyze tire temperatures right from the pits and figure out what you need to tune before the car even comes into the pits! Three unique data visualizations are offered for TireX – optimized equally well for real-time data as well as after-session review.

Compatible with most popular data systems
Simple CAN bus protocol makes integration easy with virtually any modern data system supporting CAN bus, such as AiM, MoTeC, AEM and more.

Advanced thermal imaging mode
The capabilities of TireX go beyond measuring tire temperatures: The 16 x 12 thermal imaging sensor generates 192 channels of data that you can use to monitor hot spots on your race car in real time, while on track. You can use it with Podium real time telemetry, or with any analysis package capable of visualizing this advanced data!

Next generation technology
Not only does TireX support advanced thermal imaging capabilities, its latest generation sensor technology offers approximately 2x better noise performance and improved thermal compensation vs. other sensors in its class. Want to compare existing first generation sensors? Those are the devices that specify 120, 60, or 40 degree field of view (FOV).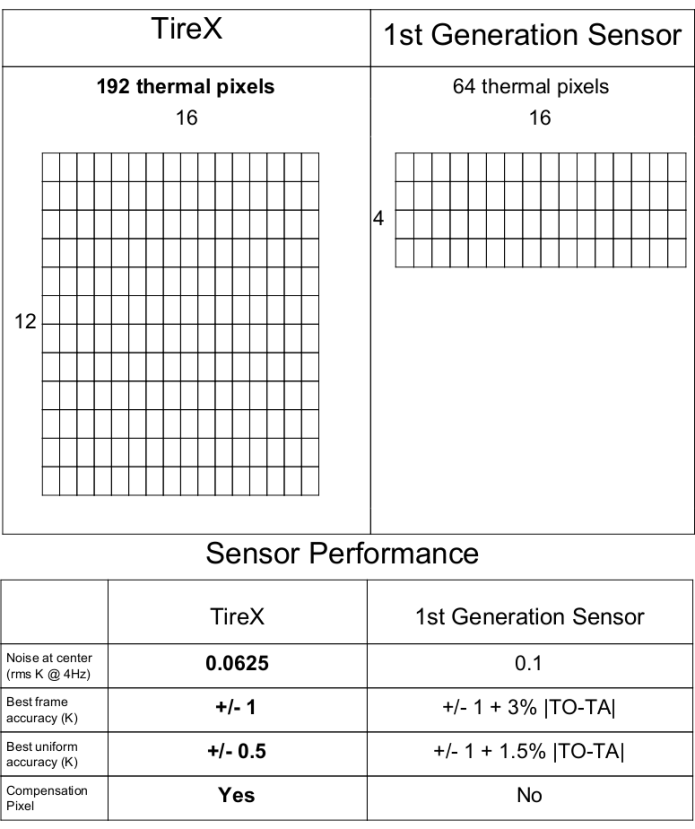 Plug and play harness option
Save hours on installation time! The optional plug and play harness makes it incredibly easy to wire and minimizes errors – just plug the sensors into the harness, then run the loop around your vehicle, locating a sensor at each corner. After routing, it's just two wires for data, and two wires for 12v and Ground!
CAN bus protocol – ready to go!
TireX's CAN bus protocol is finalized and ready to be integrated with your system.

Fully customizable
All of TireX's settings can be customized via software (CAN bus) command, and these settings are saved in non-volatile flash memory so they are retained across power cycles.